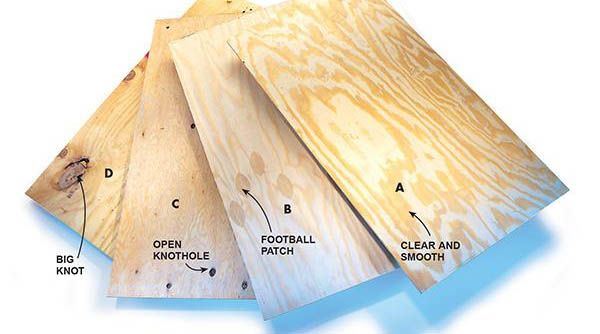 Understanding Plywood Grades
In the United States, there are four basic softwood (construction) plywood veneer grades you need to worry about: A, B, C and D. Occasionally, you may run into a fifth grade called "C-plugged."
Each sheet will have two grades, such as AC. The first letter is the face veneer grade, and the second is for the back veneer. Some plywoods have a third letter, X, that designates them for exterior use. From highest quality to lowest, here's what to look for with grades of plywood:
"A" Grade. Sanded smooth, paintable. Though some neatly made manufacturer repairs are acceptable, you should have little trouble finding A-grades that are free of repairs and knots.
"B" Grade. Solid surface with some repairs, usually football-shaped patches and/or wood filler. May have tight knots (no chunks of wood missing) up to 1 in. Some minor splits.
"C" Grade. Tight knots to 1-1/2 in. and knotholes to 1 in., some splits and discoloration.
"D" Grade. Knots and knotholes up to 2-1/2 in. Some splits. Generally no repairs.
Even within the different plywood grades, you'll likely find a wide range in the number of repairs or defects. For more information about softwood plywood, visit the American Plywood Association. You'll find facts about plywood uses, grading and specs.